VSCODE® Products


Handy scanner

THIR - 3000H
Noncontact handy scanner for various types of 2D codes.
Readable 2D code encoded high-density.






Fixed scanner


Fixed and embedded 2D code scanner
Put the screen of a cell phone above this scanner, the 2D code on th screen is decoded immediately.




Software

VS Encode Library
Easy to make VSCODE® on personal computer.
You can download this demonstration software.
Click here to download...





VS Decode Library
This is a software to decode 2D code - VSCODE® and to convert to text.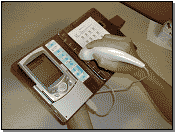 System of supporting for sales with PDA